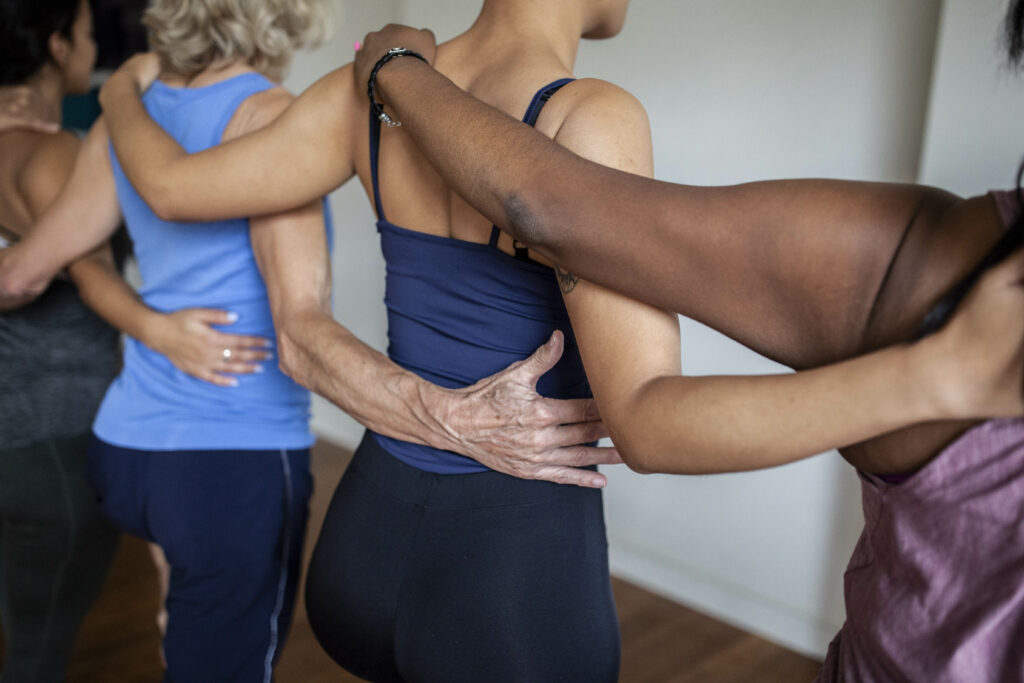 "Allies are individuals who see the systemic implications of the ways in which communities of colour, Black people, are being affected, and they are standing side by side with them and taking the lead to both call the system out and hold the system accountable,"

Rashid Shabazz, chief marketing and storytelling office at Color of Change
We would like to acknowledge that we are doing our best to continually take steps forward in creating space for systematically marginalized and oppressed persons of colour. We are actively listening, learning and educating ourselves.
As our teams work to reopen our studios, we have asked them to commit to at least one action rooted in learning – whether that's listening to a podcast, amplifying the voice of others through social media, donating, having a courageous conversation or reading a book.
—
Here is the list of learning resources we've compiled for our team. We wanted to share this with you so you can continue to grow with us. This page is a living document that we add to throughout the year. If you have a suggestion for this list, please direct message us on Instagram here.
Please use the library below as a toolkit & guide to help you get involved.
Places to Donate
One easy way to take action in support of racial justice is to donate funds to various causes and organization that are helping communities and doing great work.
Hogan's Alley Society: Advocates for Black Vancouverites who have endured the legacies of urban renewal and their erasure from the official historical narrative.
Urban Alliance On Race Relations: The Urban Alliance on Race Relations is a non-profit charitable organization that works primarily and proactively with the community, public and private sectors to provide educational programs and research, which are critical in addressing racism in society.
Black in BC Community Support Fund for COVID-19
Black Lives Matter– Donation cause list
Vancouver Aboriginal Child & Family Services Society: Support Indigenous children, youth and families in the Vancouver region by providing restorative, holistic and culturally-grounded family services.
Indian Residential School Survivors Society – The Indian Residential School Survivor Society (IRSSS) is a provincial organization with a twenty-year history of providing services to Indian Residential School Survivors.
Additional Canadian Organizations that support Black communities:
---
Educate Yourself
Being actively anti-racist means we need to be consistently educating ourselves about racism. From film to literature, podcasts, and social media we've compiled a list of resources to help on your journey to becoming more empathetic and understanding of the BIPOC (Black, Indigenous, Person's of Colour) experience.
Deyen – This is an online learning platform focused on providing resources for reconciliation. Their first course is Canadian History Through the Lens of Indigenous Women.
People to Follow
Rachel Ricketts – Racial justice educator. Spiritual Activist. Offering Spiritual Activism 101 online course, patreon membership and more
Rachel Cargle – Provides free resources and a monthly unlearning syllabus
The Conscious Kid – Parenting and Education through a Critical Race Lens
Alicia Forneret – Dedicated to creating new spaces for people to explore grief and grieving.
Rue Mapp – Founder & CEO of Outdoor Afro, which celebrates & inspires black connections in leadership & nature
Savi Horne – Climate Activist, Marginalized Voice Amplifier & Director of the Land Loss Prevention Project
We Act – Combating Environmental Racism & Building Healthy Communities
Books to Read
Policing Black Lives: State Violence in Canada from Slavery to the Present by Robyn Maynard – This book is a comprehensive account of nearly four hundred years of state-sanctioned surveillance, criminalization and punishment of Black lives in Canada.
Skill in Action by Michelle Johnson – Skill in Action: Radicalizing Your Yoga Practice to Create a Just World asks readers to explore the deeply transformational practice of yoga, and become social change agents so that they can create a world that is just for all.
Eloquent Rage by Brittney Cooper – So what if it's true that Black women are mad as hell? They have the right to be. In the Black feminist tradition of Audre Lorde, Brittney Cooper reminds us that anger is a powerful source of energy that can give us the strength to keep on fighting.
The Skin We're In by Desmond Cole – A bracing, provocative, and perspective-shifting book from one of Canada's most celebrated and uncompromising writers, Desmond Cole. The Skin We're In will spark a national conversation, influence policy, and inspire activists.
White Fragility – Why It's So Hard for White People to Talk About Racism by Robin Diangelo
The New Jim Crow – Jim Crow laws were enforced in the United States up until 1965. But author Michelle Alexander explains in her book how a similar caste has been created through the mass incarceration of Black people. Instead of using explicit race-based discrimination, Alexander points to the fact that America has instead been able to discriminate against many Black people by discriminating against convicted criminals, who are denied basic civil and human rights, including the right to vote, the right to serve on juries, and the right to be free of legal discrimination in employment.
Between the World and Me – Ta-Nehisi Coates' letter to his 15-year-old son attempts to explain the unique experience of being Black in America. Coates mixes personal narrative, reimagined history, and current events in a way that serves as a guide for his son to recon with his own lived experience.
How to Be an Antiracist Ibram X Kendi – Kendi says that the opposite of racism isn't not-racist—it's antiracist. In his memoir, Kendi combines ethics, history, law, and science along with his own awakening to antiracism. It's a good book for those who wish to meaningfully contribute to the formation of a truly just and equitable society.
Bad Feminist – Roxane Gay touches on politics, criticism, and feminism with a collection of funny and insightful essays. She discusses her evolution as a woman of color and dissects pop-culture moments, like the HBO show Girls and the film Django Unchained, all while commenting on the state of feminism today.
The Source of Self Regard by Toni Morrison- Written by the incomparable Toni Morrison, The Source of Self-Regard is composed of a series of essays, speeches, and meditations. Released just months before her death in 2019, Morrison shares everything from a prayer for the dead of 9/11 to a heart-wrenching eulogy for writer James Baldwin.
Me and White Supremecy by Layla Saad –  When Layla Saad ran a free month-long Instagram challenge during the summer of 2018, she had no idea it would become an international cultural movement. 
Coretta Scott King Book Award Winners – Coretta Scott King Book Awards are given to outstanding African American authors and illustrators of books for children and young adults that demonstrate an appreciation of African American culture and universal human values.
Black Feminist Thought by Patricia Hill Collins– This book explores the words and ideas of Black feminist intellectuals as well as those African-American women outside academe. She not only provides an interpretive framework for the work of such prominent Black feminist thinkers as Angela Davis, Alice Walker, and Audre Lorde, but she shows the importance of self-defined knowledge for group empowerment.
Heavy: An American Memoir by Kiese Laymon – Laymon writes eloquently and honestly about growing up a hard-headed black son to a complicated and brilliant black mother in Jackson, Mississippi.
I Know Why the Caged Bird Sings by Maya Angelou – Maya Angelou's debut memoir is a modern American classic beloved worldwide.
Other books of note:
Articles to Read
Mental health Issues Facing the Black Community by Sunshine Behavioral Health
"America's Racial Contract Is Killing Us" by Adam Serwer | Atlantic (May 8, 2020)
Ella Baker and the Black Freedom Movement (Mentoring a New Generation of Activists
"My Life as an Undocumented Immigrant" by Jose Antonio Vargas | NYT Mag (June 22, 2011)
The 1619 Project (all the articles) | The New York Times Magazine
The Combahee River Collective Statement
"The Intersectionality Wars" by Jane Coaston | Vox (May 28, 2019)
Tips for Creating Effective White Caucus Groups developed by Craig Elliott PhD
"White Privilege: Unpacking the Invisible Knapsack" by Knapsack Peggy McIntosh
"Who Gets to Be Afraid in America?" by Dr. Ibram X. Kendi | Atlantic (May 12, 2020)
First Nations Books
Seven Fallen Feathers by Tanya Talaga – The shocking true story covered by the Guardian and the New York Times of the seven young Indigenous students who were found dead in a northern Ontario city.
A Mind Spread Out on the Ground by Alicia Elliott – In an urgent and visceral work that asks essential questions about the treatment of Native people in North America while drawing on intimate details of her own life and experience with intergenerational trauma, Alicia Elliott offers indispensable insight and understanding to the ongoing legacy of colonialism.
Reclaiming Power and Peace: The final report of the national inquiry into Missing and Murdered Indigenous Women and Girls
Podcasts to Listen To
Seen – As brown and Black queer womxn, they ride hard for our communities and welcome listeners on a journey of personal healing and collective liberation work.
#TellBlackStories – Centered around ensuring accurate, diverse, empathetic, and human portrayals of Black people in film and television.
Still Processing – Discusses current events and pop-culture moments. Wortham is a staff writer for the paper's T Magazine and Morris is the paper's critic-at-large. They've looked at everything from California's new legislation to allow college athletes to make money off of endorsements to shows like High Fidelity and songs like Old Town Road.
Code Switch – Hosts Shereen Marisol Meraji and Gene Demby discuss how race impacts everything from politics and pop culture to history and sports. A recent episode explored how two Los Angeles-based Capoeira instructors are staying afloat after COVID-19 forced them to close their gym
1619 – An audio series on how slavery has transformed America, connecting past and present through the oldest form of storytelling.
About Race – A lively multiracial, interracial conversation about the ways we can't talk, don't talk, would rather not talk, but intermittently, fitfully, embarrassingly do talk about culture, identity, politics, power, and privilege in our pre-post-yet-still-very-racial America. This show is "About Race."
Pod for the Cause – This podcast was created for those of you wanting to effect change, who understand the importance of restoring our democracy and want to engage in deep conversation around the issues.
Seeing White – Why? Where did the notion of "whiteness" come from? What does it mean? What is whiteness for? Scene on Radio host and producer John Biewen took a deep dive into these questions, along with an array of leading scholars and regular guest Dr. Chenjerai Kumanyika, in this fourteen-part documentary series, released between February and August 2017. The series editor is Loretta Williams.
Pod Save the People – Organizer and activist DeRay Mckesson explores news, culture, social justice, and politics with fellow activists Brittany Packnett Cunningham and Sam Sinyangwe, and writer Dr. Clint Smith. They offer a unique take on the news, with a special focus on overlooked stories and topics that often impact people of color.
Strategem The Podcast – The Podcast is an audio party that discusses all things equity, inclusion and social justice. This podcast is part of a larger digital resource and virtual conference that you can find at http://welcometostratagem.com, brought to you by professional social justice warriors at Cicely Blain Consulting.
Other podcasts of note:
Movies to Watch
When They See Us — Netflix – A limited four-episode series by Ava DuVernay, When They See Us the story of The Exonerated Five, also known as The Central Park Five. It's based on a 1989 case where five seventh- and eighth-grade students of color from Harlem were falsely accused of a brutal attack of a white woman in Central Park. They all served time for a crime they didn't commit. You can watch it on Netflix, and visit Array 101 to download a learning companion for the series.
Miss Simone — Netflix – A 2015 American biographical documentary film about Nina Simone directed by Liz Garbus.
Age of Rage — Netflix – This documentary follows a white power leader and an Antifa activist leading up to the Charlottesville riots in the first year of Trump's presidency.
Who Killed Malcom X — Netflix – Decades after the assassination of African American leader Malcolm X, an activist embarks on a complex mission seeking truth in the name of justice.
Self Made — Netflix – Meet America's first empire-building, barrier-breaking, self made female millionaire. Academy Award winner Octavia Spencer stars in Self Made: Inspired by the Life of Madam C.J. Walker,
Becoming — Netflix – Join former first lady Michelle Obama in an intimate documentary looking at her life, hopes and connection with others as she tours with "Becoming."
She's Gotta Have It — Netflix – Nola Darling struggles to stay true to herself and her dreams while juggling three lovers in this Spike Lee series based on his breakout film.
Dear White People — Netflix – Students of color navigate the daily slights and slippery politics of life at an Ivy League college that's not nearly as "post-racial" as it thinks.
13th — Netflix – Documentary 13th analyzes the criminalization of African Americans and the prison boom in the United States. The title is derived from the 13th amendment, which abolished slavery and involuntary servitude except as a punishment for a crime. The film is available to stream on Netflix.
Crips & Bloods, Made in America — Available to rent – With a first-person look at the notorious Crips and Bloods, this film examines the conditions that have lead to decades of devastating gang violence among young African Americans growing up in South Los Angeles
Other films of note:
Freedom Riders — Available to rent
American Son (Kenny Leon) — Netflix
Black Power Mixtape: 1967-1975 — Available to rent
Clemency (Chinonye Chukwu) — Available to rent
Fruitvale Station (Ryan Coogler) — Available to rent
I Am Not Your Negro (James Baldwin doc) — Available to rent
If Beale Street Could Talk (Barry Jenkins) — Hulu
Just Mercy (Destin Daniel Cretton) — Available to rent
King In The Wilderness — HBO
See You Yesterday (Stefon Bristol) — Netflix
Selma (Ava DuVernay) — Available to rent
The Black Panthers: Vanguard of the Revolution — Available to rent
The Hate U Give (George Tillman Jr.) — Hulu with Cinemax
When They See Us (Ava DuVernay) — Netflix
---
Support and Raise Awareness
Petitions to Sign
Black Lives Matter – Petitions List
Colour of Change – List of campaigns and causes that help fight racial injustice
Support Local – Food In Vancouver
Support Local – Things to Buy
(Vancouver Businesses and Indigenous Owned Brands)
Support Local – Vancouver Black Owned Businesses
Cicley Blain Consulting – Inclusion and racial justice
Dora Kamau – Mindfulness Artist
Mawogan Fashion – Designer
Sade Thomasos Nutrition – Holistic Nutritionist
Stratagam Virtual – Inclusion Conference
Black Women Connect Vancouver – Black Women-Led Collective (donate)
@blackwomenconnectvancouver
Afro Van Connect – Powering the voices of African Descent Youth (donate)
Ethos Lab – STEM Youth Social Enterprise
Black Lives Matter Vancouver– Justice and Equality (donate)
Afro Biz World – Black Entrepreneurs Directory
Black in BC Community Support – Community Funding (donate)
National Congress of Black Women Foundation – Advancement and Recognition for Black Women
Black Youth Help Line – (donate)
Hogan's Alley – Advancement of People of African Decent (donate)
Mom Let's Talk – Anti Racism Workshop for Moms
Nuzi Collective – Platform for Black Women, WOC and trans folx
Cicely Blain Consulting– Social Justice and Anti-Racism Inclusion Consulting
Stratagem Virtual
---
Organizations to Follow
---
Conversation Starters with Kids
Books:
Podcasts:
Articles:
The Conscious Kid: follow them on Instagram and consider signing up for their Patreon